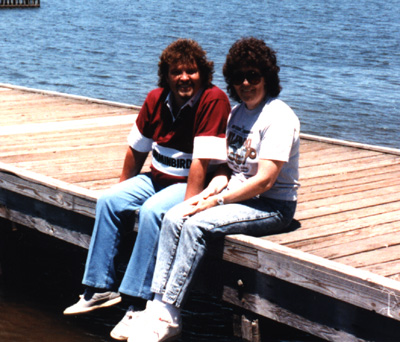 i thought i'd put a page about myself up in case anyone was curious.
my name is Mary Young, and i live in Columbus NC.
most of my "Alabama Years" were spent in PA (near Allentown),
where i met a lot of Alabama fans who became great friends of mine.
some of us formed a penpal group called Bama Batch with over 200 members.
i've been a fan since '83, my first concert being the Allentown Fair,
and since then i've seen them over 200 times. the photos on this
website were taken by me and my friends- if you'd like to know
where any were taken, please email me and ask!
also, please write if you were ever a member of Bama Batch.

the above photo of me and Jeff was taken at a lake in Alabama during
June Jam Weekend. my husband helped Jeff give a fishing demonstration
to the kids from Camp Smile-A-Mile. more pictures from this day are
on my photo pages... it was a great day i'll never forget!

more of my favorite bands:
Beatles, Bee Gees, Bon Jovi, Bruce Springsteen, & Garth Brooks.

i'm married and have two children- Michael, 22, and Shannon, 20.
some of my hobbies include Miami Dolphins, cats, angels, going to
Gatlinburg & Myrtle Beach, internet, reading, flea markets, white
chocolate, Melrose Place, & movies like Forrest Gump & Titanic.

hi to Wendy, Dennie, Karen, Cathy, Debbie, Judy, Kathy, Gail, LeAnn,
Cindy, Maria, Barbie, Kim, Nicki, Pat, & anyone i forgot :)

email me at NCmtnDewe@aol.com, i'd love to hear from you!